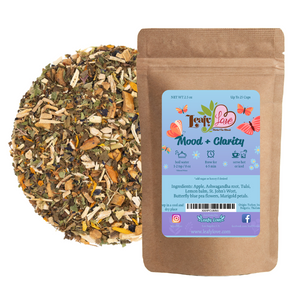 Mood + Clarity is a combination of fruit, herbs, and flowers that have been used in traditional medicine and Ayurvedic practices to decrease anxiety, ease digestion, improve sleep quality, enhance cognitive function, and improve overall wellness.
Ashwagandha, Tulsi, and St. John's Wort are part of a class of plants called adaptogens. These potent adaptogens are meant to help your body respond to stress. Tulsi can improve general stress levels and aid with symptoms of forgetfulness.  Lemon Balm and St. John's Wort have been nicknamed 'sunshine herbs' for their purported mood-boosting qualities.  Butterfly Blue Pea Flower turns the cup into a beautiful teal color and adds a dose of antioxidants to aid with relaxation. This caffeine-free tea is a perfect blend of herbs with antioxidant, antibacterial, antiviral, anxiolytic, and antidepressant properties.

PRODUCT INFO
Weight 2.5 oz. Makes up to 25 cups. Loose Leaf. Keep it in a dry and cool place. Caffeine Free.
SHELF LIFE: 2 years after opening
ORIGIN: Turkey / India / Bulgaria / Thailand
INGREDIENTS:  Apple, Ashwagandha root, Tulsi, Lemon balm, St. John's Wort, Butterfly blue pea flowers, Marigold petals
RETURN & REFUND POLICY
No refunds or exchanges.
SHIPPING INFO
1-2 Business days to process and ship products.
HOW TO BREW 
Bring fresh, filtered water to a boil.

Add a half tablespoon of tea to an infuser to make an 8-10 oz cup of tea.

Pour the heated water into the mug.

Steep no more than 5 minutes.

Strain tea leaves or take out the infuser.

Sip and enjoy.
Brew iced or hot. For sweetness, add sugar, honey, or sweetener of choice