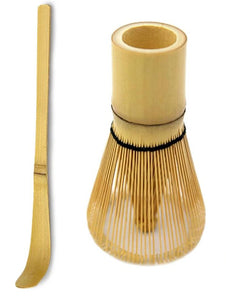 Whisk up a delicious cup of frothy lump-free matcha with our Matcha Tea set and enjoy the authentic ceremonial Matcha tea experience. The handcrafted pronged whisk produces the best froth. The SPOON is for stirring your Matcha when it settles.
PRODUCT INFO

100% NATURAL & FOOD-SAFE: The entire set is constructed of all-natural bamboo. No mysterious varnishes or other chemicals were used in this product. It is made from 100% bamboo with a vegetable oil finish to enhance its durability.

STRONG AND SUSTAINABLE; The high quality makes it sturdy and durable. Its materials are 100% safe to use. This kit makes it very easy to adopt matcha as a lifestyle beverage.
RETURN & REFUND POLICY
no returns or refunds.
SHIPPING INFO
1-2 Business days to process and ship products.