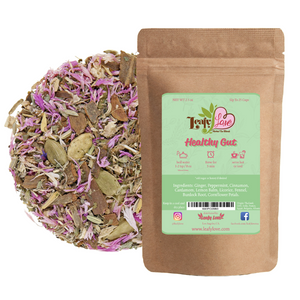 Have you ever heard of "All disease begins in the gut?" Unfortunately, gut health too often falls to the wayside in our busy modern age. Our busy lives mean many of us rely too much on foods we know aren't good for us. In America alone, more than 50 million people eat fast food every single day.

With meals-on-the-go a reality for so many of us, what to do? Drink herbal tea! Healthy Gut, a luscious, flavorful concoction of premium herbs and flowers, was blended to combat the problem. The blend, an assortment of ingredients selected for their purported ability to aid digestion and soothe the gut, hits all the right notes.
Burdock contains inulin, a natural dietary fiber, and improves digestion. Fennel seed is an effective aid to digestion. It can help the smooth muscles of the gastrointestinal system relax and reduce gas, bloating, and stomach cramps.
Ginger. a powerful anti-inflammatory, Helps ease muscle pain and soreness, strengthens the digestive system, and prevents indigestion, nausea, and heartburn. Cinnamon & Licorice is filled with antioxidants and offers several health benefits, including reduced inflammation and improved heart health.
The next time your stomach is rumbling, and it isn't from hunger, grab the kettle, pour yourself a cup, and settle in for a dose of calming comfort.
PRODUCT INFO
Weight 2.5 oz. Makes up to 25 cups. Loose Leaf. Keep it in a dry and cool place. Caffeine Free.
SHELF LIFE: 2 years after opening
ORIGIN: Thailand / USA / India / France / Egypt / Bulgaria / Albania
INGREDIENTS:  Ginger, Peppermint, Cinnamon, Cardamom, Lemon balm, Licorice, Fennel, Burdock root, Cornflower petals.
RETURN & REFUND POLICY
No refunds or exchanges.
SHIPPING INFO
1-2 Business days to process and ship products.
HOW TO BREW 
Bring fresh, filtered water to a boil.

Add a half tablespoon of tea to an infuser to make an 8-10 oz cup of tea.

Pour the heated water into the mug.

Steep no more than 5 minutes.

Strain tea leaves or take out the infuser.

Sip and enjoy
Brew iced or hot. For sweetness, add sugar, honey, or sweetener of choice